News
Posted on
Bareback rider at UT-M is recipient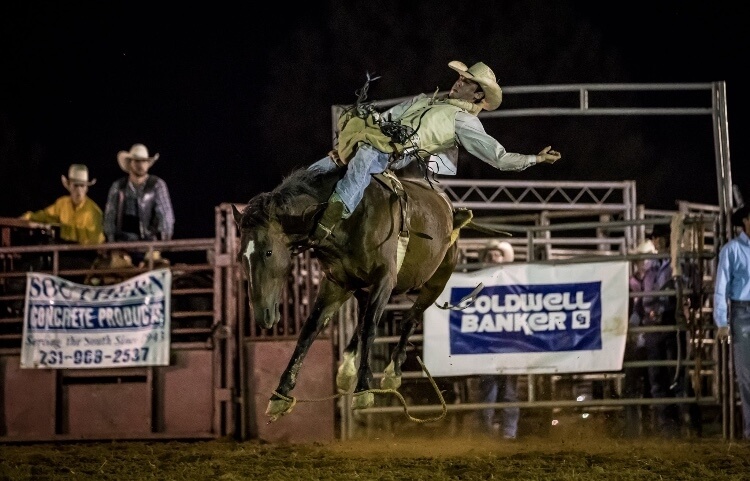 Photo courtesy Jonny Walker.
Franklin, Tenn. (April 25, 2018) – The Franklin (Tenn.) rodeo has awarded a scholarship to a student at the University of Tennessee-Martin.
Jonny Walker, Parkers Crossroads, Tenn., is the designee for the 2018 scholarship award.
Walker, a bareback rider, is in his first year of studies at UT-M. He graduated from Ranger (Texas) College last May, before transferring.
He competed in the Tennessee High School Rodeo Association, winning the bareback riding reserve title in his event in 2012-13 and competing at the National High School Finals Rodeo the same years.
He is studying ag business and will graduate in May of 2019. He is currently ranked second in the National Intercollegiate Rodeo Association's Ozark Region and competed at the Franklin Rodeo last year, where he made a qualified ride.
Walker is the son of Mike and Jeniffer Walker.
The Franklin Rodeo takes place May 17-19 at the Williamson Co. Ag Expo Park. The show begins at 8 pm each night. For more information, visit www.FranklinRodeo.com.
RACE #1 JUNE 15-16 SVCCRACE #2 JULY 13-14 SVCCRACE #3 SEPTEMBER 23 GLEN ROSERACE #4 OCTOBER 20 CLEBURNERACE #6 NOVEMBER 17 SVCCRACE #7 NOV 30-DEC 1 SVCCRACE #8 JANUARY 12 SVCCRACE #9 FEBRUARY 2 SVCCRACE #10 MARCH 9 CLEBURNERACE #11 MARCH 23 CLEBURNERACE #12 APRIL 6 CLEBURNEAs a proud sponsor of the Barrel Racing Association [...]
We are proud to announce our sponsorship of the American Royal Rodeo in 2018.We will be supplying Custom Made Rodeo Awards with a "Royal Blue" theme.
CASPER, Wyo. – Following the conclusion of the regular season, Glen Lammers and Carlee Johnston earned Great Plain Region Honors. Lammers was named the Coach of the Year, while Johnston won the All-Around Championship.Johnston earned the All-Around title with 1,595 points, more than 200 points in front of any other student-athlete. She racked up points [...]
Feb 1 - Diamond W AlvaradoFeb 15 - Cleburne IndoorMar 1 - M7 Arena Alvarado
March 8, 2014 Joshua High School Rodeo Team will be hosting a Youth 4D and Open 5D barrel race at the Johnson County Sheriff's Posse outdoor arena. 9:00 am - books open 10:00 am - exhibitions 2:00 pm - Youth 4D with Open 5D to follow Youth 4D is 15 and under. Open 5D is 1/2 second splits. Youth 4D [...]
BuckleDisplay.com strives to offer its visitors the many advantages of Internet technology and to provide an interactive and personalized experience. We may use Personally Identifiable Information (your name, e-mail address, street address, telephone number) subject to the terms of this privacy policy. We will never sell, barter, or rent your email address to any unauthorized [...]
The Buckle Display™ Support Site January, 2008 By using the Buckle Display™ web site and/or other services, you agree to the following terms and conditions (the "Terms & Conditions"). We will make the most current version of these Terms & Conditions available on this page. Additionally, you shall be subject to any posted guidelines applicable to any [...]
Custom Rodeo Awards from BuckleDisplay.com Whether you need 5 or 100, we can handle your Custom Rodeo Awards. All products are handcrafted in Texas and can be customized to fit your organization.Custom nameplates, custom brands....whatever you need we can usually come up with a great solution. Our products are designed by us - so they are unique as well as [...]
We at JDB Rustic welcome the challenge of custom orders. If you can dream it, we can make it.Buckle Displays, Jewelry Boxes, Picture Frames, Furniture.... If it's made of wood, we can probably make it for you!